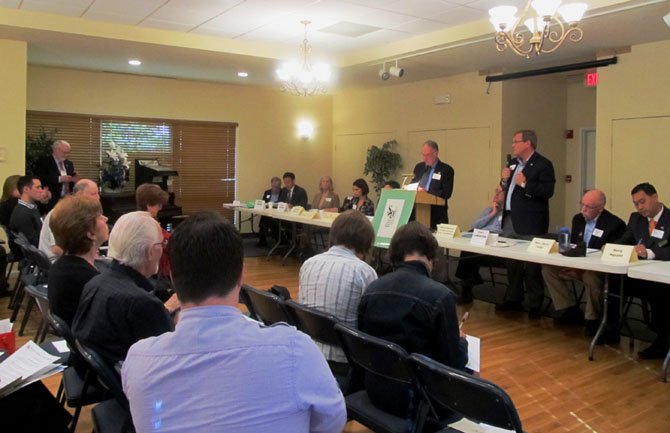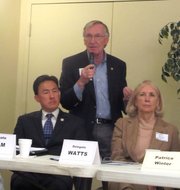 As the countdown to election day begins, most candidates are laser-focused on promoting themselves as the one who really does put jobs and the economy first.
"Failing our children today is not just morally wrong; it's counterproductive, ultimately leaving us less competitive in the global society."

—John Horejsi, founder of SALT
But one group also thinks voters should know where candidates stand on social justice issues when they go to the polls Nov. 5.
"Our elected officials have a great deal of influence on the common good, so it's reasonable that we find out where candidates stand on these issues," said John Horejsi, founder of SALT (Social Action Linking Together), a non-partisan, faith-based advocacy group started in 1983.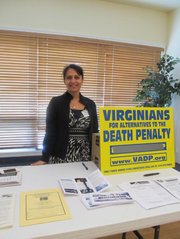 "We're here to see where candidates stand today," said Horejsi at SALT's annual candidates' forum held at the Vienna American Legion Post 180 on Saturday, Sept. 28. A slate of candidates, both incumbents and challengers vying for seats in Virginia's General Assembly, attended the forum. They included incumbent delegates Ken Plum (D-36); Mark Keam (D-35); Vivian Watts (D-39); Jim LeMunyon (R-67); and Mark Sickles (D-43). Challengers included Patrice Winter, the Republican who is challenging David Bulova (D-37); Democrat Jerrold Foltz, who is challenging Republican Tim Hugo (D-40); Democrat Ed Deitsch, who is challenging Republican incumbent Dave Albo (R-42); Democrat Hung Nguyen, who is challenging LeMunyon; and Democrat Jennifer Boysko, who is challenging Tom Rust (R-86). Democrat Marcus Simon (D) also attended the forum. He is facing Brad Tidwell (R) in the 53rd district, an open seat to replace the previous incumbent, Jim Scott, who is retiring.
STEPHEN CLERMONT, research director of Every Child Matters Education Fund, started the event as the keynote speaker, reciting some sobering statistics about Virgina's children:
More than 280,000 children in Virginia live in poverty;

More than 18,000 children are homeless;

One in every six children doesn't have enough to eat, and 148,000 have no health insurance.
"Children need you to make their voices heard," Clermont said. "What are you going to tell children about the schools you closed, or a child not able to see a doctor?"
Clermont said ECM believes that a top priority for government "must be helping children survive and thrive."
"Failing our children today is not just morally wrong; it's counterproductive, ultimately leaving us less competitive in the global society," Horejsi said.

After Clermont's keynote address, Horejsi invited each candidate to give a one-minute "elevator speech" about their issues, and then opened the floor to the audience, who submitted written questions for candidates. The questions touched on a wide variety of topics, ranging from prison reform, transportation, immigration reform, Medicaid expansion, uranium mining and corporate tax breaks.
Del. Vivian Watts (D-39) was emphatic when she answered a question about the cost of the federal food stamp cuts being passed down to states:
"Let's be clear: this is no small thing for the state," Watts said. "This is people's food. This is people's lives. This is the difference between families being able to feed their children or paying the rent."

A question about corporate influence and tax breaks kicked off a lively exchange about ALEC, the conservative national consortium of state politicians and corporations vilified as a PAC aimed at increasing corporate profits at the public's expense.
In recent years, Virginia legislators have been criticized for proposing boilerplate ALEC legislation that would, among other things, dilute voting rights legislation, limit corporate liability for harm caused to consumers and give business tax credits to fund private school tuition for needy students.
"As someone who's actually attended an ALEC meeting, I agree with some of the stuff, but not everything," said Del. Jim LeMunyon (R-67), the only Republican incumbent who attended the session. "There are one or two bills that interested me, and some that are just off the wall."
Horejsi sparred politely with LeMunyon over how much corporate tax breaks cost Virginia's taxpayers.
"Seems like corporations get a lot of unfair breaks," Horejsi said.
Hung Nguyen, a small-business owner and political refugee from Vietnam who is trying to unseat LeMunyon, vowed to "close corporate tax holes," and said he would push legislation that stops corporations "who continue to make money on the backs of the poor."
Jennifer Boysko, who is challenging Del. Tom Rust, the Republican incumbent in the 86th district, said she "strongly opposes" much of the ALEC agenda, including the "takeover bill" of schools. A former aide to Fairfax County Supervisor John Foust (D-Dranesville), Boysko said she has "a strong background and commitment to social justice issues."

Del. Mark Keam (D-35) struck a bipartisan note by giving kudos to Governor Bob McDonnell for helping pass the historic transportation bill last session and the governor's efforts on prison reform.
Keam and several other delegates urged participants to vote. "That's really the most important thing. Get out and vote on Election Day," Keam said.
"Today's interchange with candidates was invigorating," Horejsi said of the forum.
THE EVENT was co-sponsored by Virginia Organizing (VO); Virginia Citizens United for Rehabilitation of Errants (CURE); and the Virginia Coalition of Latino American Organizations (VACOLAO).