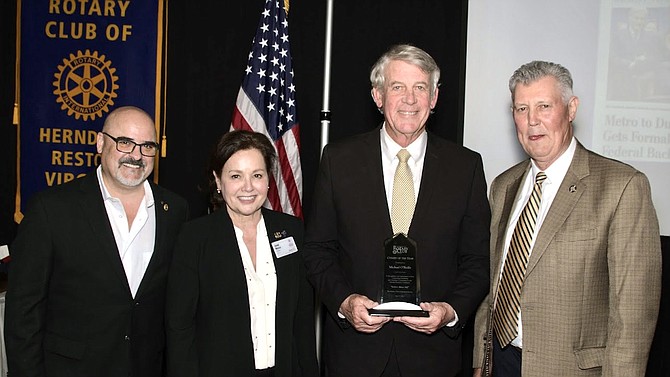 Michael O'Reilly, recognized for his many years of service to the Town of Herndon and the wider Fairfax County community, as the 2023 Rotary Club of Herndon-Reston's 54th Annual Citizen of the Year. The Citizen of the Year Recognition and Dinner was attended by O'Reilly and many members of his family, friends, business colleagues, local and Virginia state officials and many Rotarians at the Crown Plaza Dulles Airport Hotel on April 27, 2023. From his time in elected office as former Mayor of the Town of Herndon and Town Council Member, to his work on various boards, including the Dulles Regional Chamber of Commerce, the Metropolitan Washington Airport, the Silver Line Metro Rail Project, the Herndon Planning Commission, Arts Herndon, and numerous committees, Michael O'Reilly has made a significant and lasting impact. His significant efforts to improve transportation, prevent and end homelessness and bring a new art center to downtown Herndon are particularly noteworthy. He is also the owner of the O'Reilly Law Firm. 
Kerrie Wilson, President and CEO of Cornerstones, shared her thoughts, support and words honoring O'Reilly. Melissa McKenna, President and CEO of Dulles Regional Chamber of Commerce, said O'Reilly's wisdom, leadership, commitment to service and work influenced her own personal and business life. Others paid respect to O'Reilly, including Maddie White for Congressman Gerald Connolly. The Honorable Pradip Dhakal, Town Council Member, presented O'Reilly with the Town of Herndon's Proclamation.
The former Honorable Town of Herndon Mayor Richard Thoesen recognized and thanked O'Reilly for his esteemed work and contributions. Rotary's Immediate Past President Don Owens spoke of O'Reilly's leadership and kindness and the impact he has had, helping so many, especially in business. Don Owens and Rotary's President, Jane Nash, presented Michael O'Reilly with the distinguished Citizen of the Year award. His acceptance speech and heartfelt remarks included his love and devotion to his wife Annie, as they celebrate 45 years of marriage, his four children and extended family.