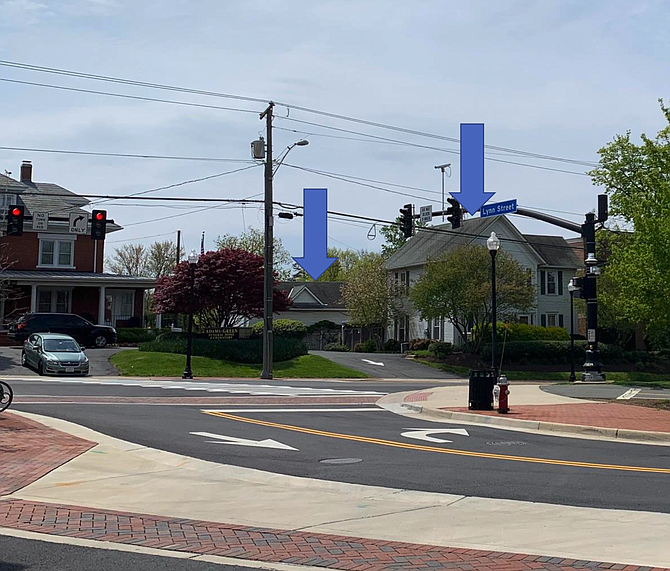 On July 7, Robert B. Walker, Esq., filed a Petition for Review and Complaint in Fairfax County Circuit Court that drew the attention of some residents in the Town of Herndon's Historic District Overlay. Walker asserted in the petition on behalf of 17 petitioners that the actions of the Herndon Town Council were improper on June 13 in the case of Adams Holdings, LLC, appealing the April 19 decision of the Historic District Review Board.
The review board had unanimously denied Adams Holdings, LLC's Application for a Certificate of Appropriateness required before demolishing its 100+-year-old house and carriage house at 725 Elden Street in the local historic overlay district. The board found the applicant "failed to comply with the applicable zoning ordinance and the Historic District Overly Guidelines," according to the July 7 petition and complaint to the Circuit Court.
Michael L. O'Reilly, Esq., representing Adams Holdings, LLC, said on July 14, "We firmly believe that a judge in the circuit court will uphold the decision," allowing the demolition. 
Walker took issue with the fact that on June 13, some councilmembers used their interpretations and attempted to create review standards different from those per Section 78-60.3(g)(8)(e)(1). The appeal claims most councilmembers did not abide by the Ordinance's requirements, even though the town attorney, mayor, and vice mayor reminded their colleagues several times that it was their sole responsibility to rule on whether the evidence in the record demonstrated that the review board's decision was correct or incorrect, based on a review of standards for the Certificate of Appropriateness.
Instead, the council based their decisions and votes on factors such as the property's lack of a historic market, the fact that it was not included in a local nonprofit's walking tour brochure, disagreement with the process outlined in the Ordinance, and the desire to support the business over contributing structures. Councilmembers also discussed whether or not the Preservation Guidelines should be revisited and whether or not the HDRB should be disbanded. Moreover, according to Walker, the transactional disclosure declaration statements read at the beginning of the hearing indicated that several councilmembers had either met with or spoken to the Applicant or the Applicant's Agent.
On April 19, the council, in a 4-3 vote, reversed the decision of the Historic District Review Board that denied Adams Holdings LLC the required certificate to demolish the two contributing structures. 
No date is set for a judge to hear the petition in Fairfax County Circuit Court. Robert Walker could not be reached for additional comment.