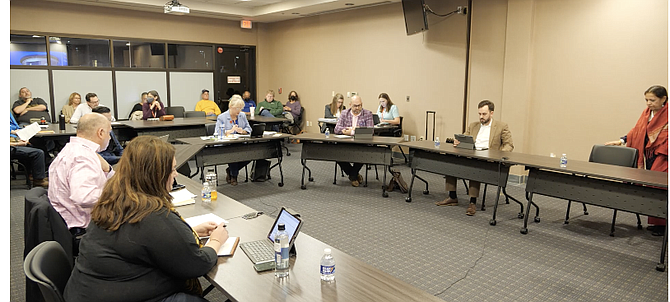 Following their successful bid at the Nov. 8, 2022 election to secure seats on the seven-member Herndon Town Council, the new council took the oath of office on Jan. 3. During a public ceremony at the Herndon Council Chambers Building, each raised their right hand and repeated the oath administered by Gerarda Culipher of the Fairfax County Circuit Court Clerk's Office. They swore to discharge the duties incumbent "faithfully and impartially" upon them to the best of their abilities.
Freshman councilmembers Clark A. Hedrick, Keven LeBlanc, and Donielle M. Scherff joined senior councilmembers Cesar del Aguila, Pradip Dhakal, and Naila Alam, along with mayor Sheila Olem to become the final authority on the town's policy decisions.
"Everyone comes from a different place and has different backgrounds. We're here to represent the community, " Olem said. She thanked town staff for what it does to deliver services that the community "holds dear" and lauded the council's collaboration with staff to make them possible. 
Under the town's council-manager plan, the mayor and councilmembers have no administrative duties. Instead, the town manager, William B. Ashton Jr., is responsible for directing the workforce and programs according to the council's ordinances, rules, and regulations.
Highlights of Town Council Plans Shared for 2023-2024
Third-term councilmember del Aguila said he was interested in following up on strategic initiatives from 2020-2022. Safety and security including increased police presence; traffic calming such as stop signs, speed signals, street closures, and new configurations for improved traffic flow, del Aguila said. He added follow-up action to consider a Historic District revamp, Saturday Farmers Market, food truck parking and festivals.
Dhakal, also serving his third term, said the council must ensure making services "more equitable and having more events that cater to the town's diversity…We have to cater to everybody because everybody is equal," Dhakal said.
Alam discussed seeing herself as "much more involved during her second term." Alam said her focus would be on pedestrian and cycling safety. "People who use wheelchairs have difficulty, and people who use strollers (do too)." She noted that some individuals cross mid-street, usually as a convenience rather than walking to the nearest corner, endangering themselves and others.
Twp freshman councilmembers provided their insights and proposed plans. LeBlanc said he'd be interested in learning more about how earlier decisions related to the downtown redevelopment and the Herndon Station Metro development had unfolded. "But of course, we're now on the path, and the path has been for several years. So, we're going to make the best of it and just see what we can continue to do," LeBlanc said.
Scherff shared the importance of the Bible she brought to take the oath of office. "This is my grandfather's Bible … He's why I wanted to do this and why it is important to me," Scherff said.
Responding to how she expected to feel when she placed her hand on it, Scherff said, "I will feel elated for the opportunity to serve this town. I felt that from the drive from my house to here and every person I saw, I wanted to be committed to doing the work they want," Scherff added tearfully. "I hope that the spirit of goodwill that starts here will carry over into the council session afterward."
Hedrick Elected Vice Mayor
Within an hour of the swearing-in ceremony, the newly elected Herndon Town Council held its first organizational meeting and work session for 2023. The council approved a resolution electing Hedrick as vice mayor for the 2023-2024 term. Five members voted yes, Hedrick abstained, and Alam was absent, Traditionally, the councilmember who receives the most votes during the general town elections is elected to the post. Hedrick received the highest number of votes during the election on Nov. 8.
"I appreciated it," Vice mayor Hedrick said afterward. Hedrick has served on the town's Board of Zoning Appeals (BZA) and is an attorney for the federal government.