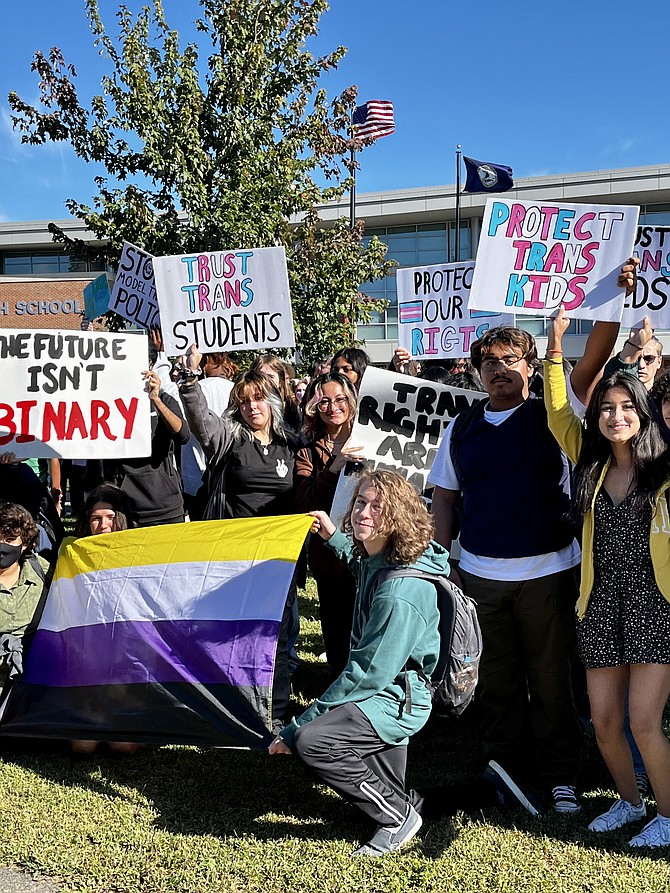 It's not about bathrooms like it was never about water fountains. That is what a hand-made protest sign held by two Herndon High School students said the morning of Sept. 26 during a school-allowed protest activity. Approximately 300 students gathered in front of the school at 9:45 a.m. as part of a county and state-wide protest demonstration organized by Pride Liberation Project in response revisions to transgender policies in public schools that some called "cruel and anti-trans."
According to a communication from the principal of West Potomac High School to parents, 1,400 students walked out there. Walkouts were planned at most high schools in Fairfax County, Arlington and more around the state.
On Friday, Sept. 16, the Virginia Department of Education released its revised 18-page 2022 Model Policies, a revision of the Model Policies for the Treatment of Transgender Students in Virginia's Public Schools (the "2021 Model Policies"), adopted on March 4, 2021 under Gov. Ralph Northam (D). 
The VDOE's revisions include banning transgender students from using restrooms that align with their gender identity, banning gender-neutral pronouns, and banning social transitioning and expressing their gender identity. 
The revisions prohibit school districts from protecting closeted students, requiring school districts to out students to parents. In addition, the revisions allow people to maliciously misgender students and allow parents to deny a student access to school counseling services, regardless of the student's wishes and mental health.
The revisions remove provisions requiring school districts to minimize gender segregation in extracurriculars and train school mental health professionals to support LGBTQIA+ students.
A tweet on Sept. 26 from U.S. Rep. Gerald. E. Connolly (D-11) @GerryConnolly said, "This policy is fundamentally wrong and its outcomes tragically unacceptable. It helps no one, but it harms many. There is no justification for such transparent cruelty in Virginia."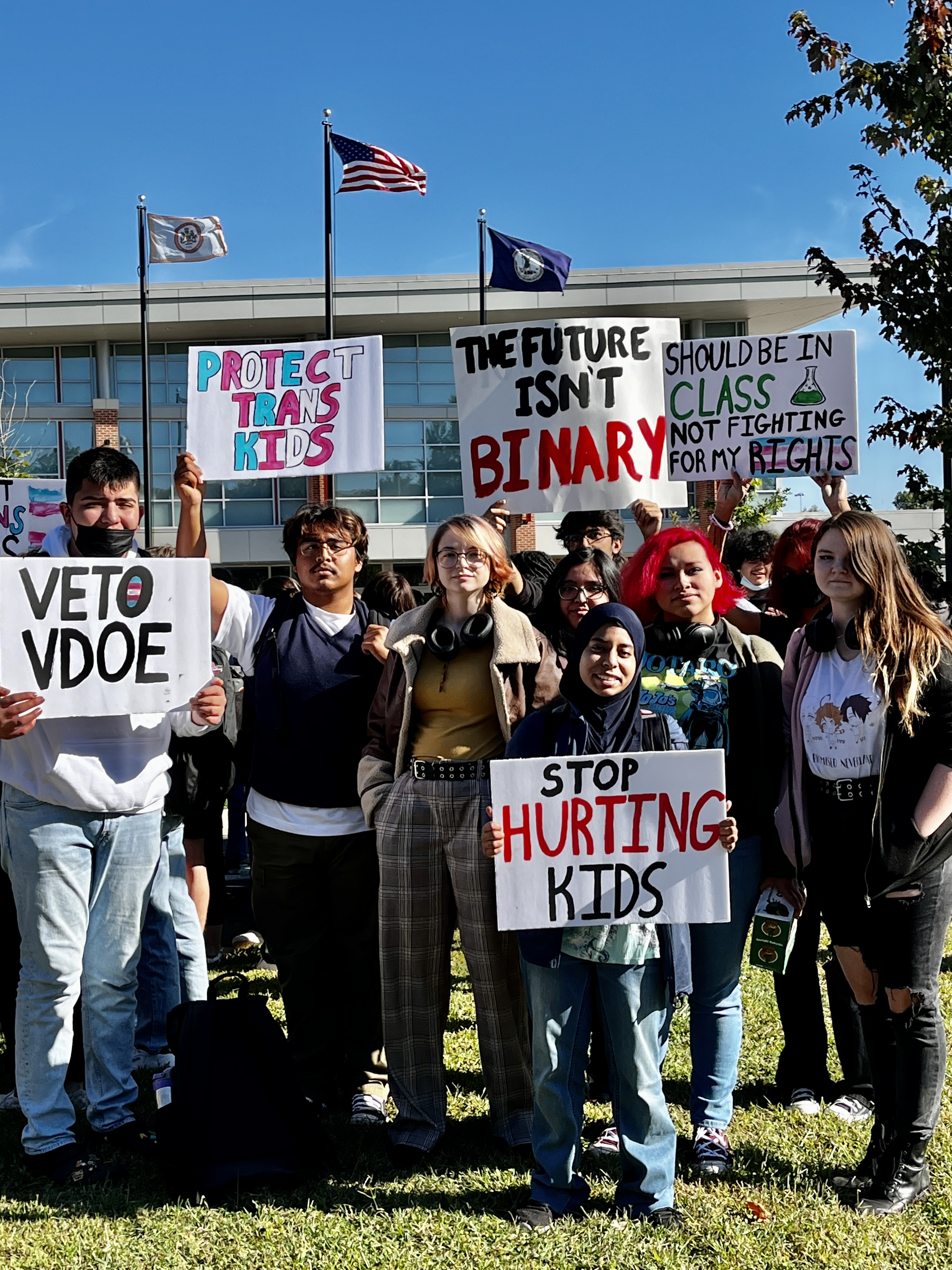 Connolly and others said that what the VDOE proposed would have tragic consequences.
"There is one data point to keep in mind as this egregious new policy is debated and implemented: a young LGBTQ person attempts suicide every 45 seconds in America," according to the Trevor Project. "Among trans or non-binary American youth, the outlook is darker still. Transgender and non-binary youth are more than twice as likely to seriously consider or attempt suicide compared to their other LGBTQ peers … A peer-reviewed study published in 2021 found the transgender and non-binary youth who reported gender identity acceptance from at least one adult in their lives were 33 percent less likely to report a suicide attempt in the past year." 
Public Comment is open for comment concerning the new policy on trans students in Virginia by Governor Glenn Youngkin (R) at https://townhall.virginia.gov/L/Comments.cfm?GDocForumID=1953
Comments by Students:
Beatrice Stotz, Fairfax HS student: "As a transgender student, I just want a safe and accepting environment where my peers and I can thrive. Unfortunately, many do not feel we are entitled to such a luxury. These proposed regulations do not "protect students" as they are touted but instead actively harm us and erase our existence for political gain. I'm fortunate enough to have a supportive community, but many of my friends and peers cannot say the same, and these policies would put their lives at risk. I hope for schools that allow students to be themselves, but we can only achieve that goal if our education leaders reject these harmful guidelines."
Nadia Garcia, Madison HS student: "Our Governor is attempting to silence the voices of young people. He seems to think that denying us basic rights will make us stop existing, but it will only endanger our mental health and leave us vulnerable to harassment. Young people are walking out across Virginia because we know we can build schools that affirm everyone's humanity and let students succeed."
Jaeda Fontaine-Rasaiah, Langley HS: "The proposed guidelines defy logic. Erasing students' identities and allowing parents to unilaterally opt students out of trained mental health counseling doesn't advance anyone's ability to have a voice in their education. My peers and I are walking out because we believe schools should be inclusive spaces where students can thrive, not have their rights undermined for a politician's electoral future."