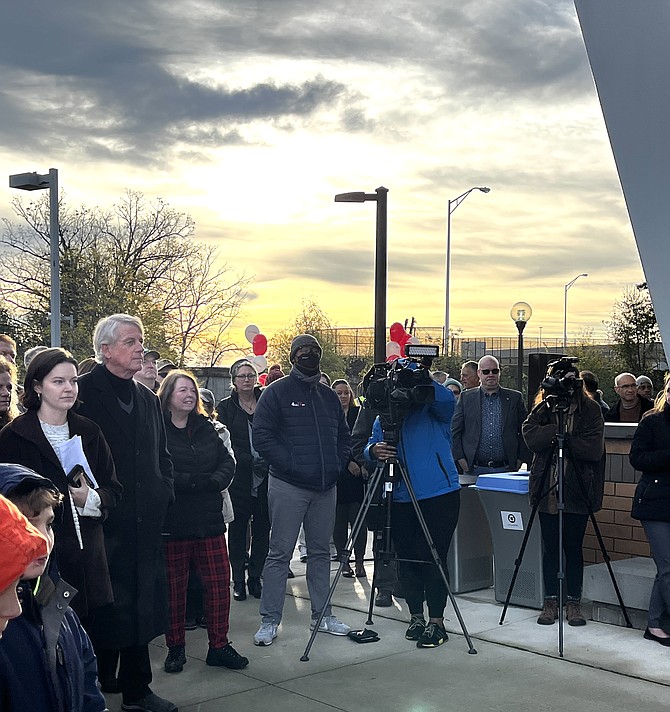 On Nov. 16, residents of Herndon, business owners, and longtime supporters of
Metrorail to Dulles gathered at the Silver Line Herndon Station to celebrate its first full day of service. Mayor Sheila Olem talked about many former town mayors, like Tom. Rust, Richard C. Thoesen, Carol A. Bruce, Michael O'Reilly, Steve DeBenedittis, and Lisa Merkel. Their hard work and good ideas kept Herndon on track for the Metro Silver Line.
"The rail goes back many, many years. I was surprised (to learn) when I moved here in the 1990s that they had been planning this since the 60s," Olem said. She discussed how the Metro would affect commute times for town residents. 
"Normally, it will take 10 minutes to get to work at Dulles Airport (using the Metro)," she said. Previously, riders who rode the bus took 45 minutes, "meandering all around," she said.
U.S. Rep. Gerry Connolly (D) said that when he first became involved with the Town of Herndon after being elected chairman of the Fairfax County Board of Supervisors, he was told that Herndon would be bypassed in the Metrorail plan. "Well, ladies and gentlemen, we're not bypassed. This station is part of the Dulles corridor trunk, which means that we're connected. We're connected to the urban core of the city," Connolly said. "We're connected up and down the corridor with Reston, Tysons, and the airport. We are going to be able to offer a choice in terms of their mobility options."
Connolly applauded political leaders who had a vision and were "committed to getting things done." He mentioned U.S. Sen. John Warner, a "stalwart on this project," who helped on the Republican side of the aisle in the US Senate, and U.S. Rep. Frank Wolf, who worked on the Republican side in the House.
"Of course, our excellent governors, now Senators Tim Kaine and Mark Warner, were stalwart allies in schmoozing the Bush administration, which really didn't like transit. … Tim Kaine, I don't know how he did it, but he got the then Secretary of Transportation, Mary Peters, to agree to this project …  It's a glorious day. It's a wonderful day. I look forward to cutting this ribbon."
Sen. Jennifer Boysko (D) said that having something good to share the day before with colleagues warmed her heart when they attended Metro's opening day celebration. "We have Innovation Center; we have the Town of Herndon. Reston is right down the street, as well as Ashburn and Dulles Airport," she said.
Boysko described how former Herndon mayor Lisa Merkel brought the project together. "Lisa really went to the mat and showed serious leadership," Boysko said.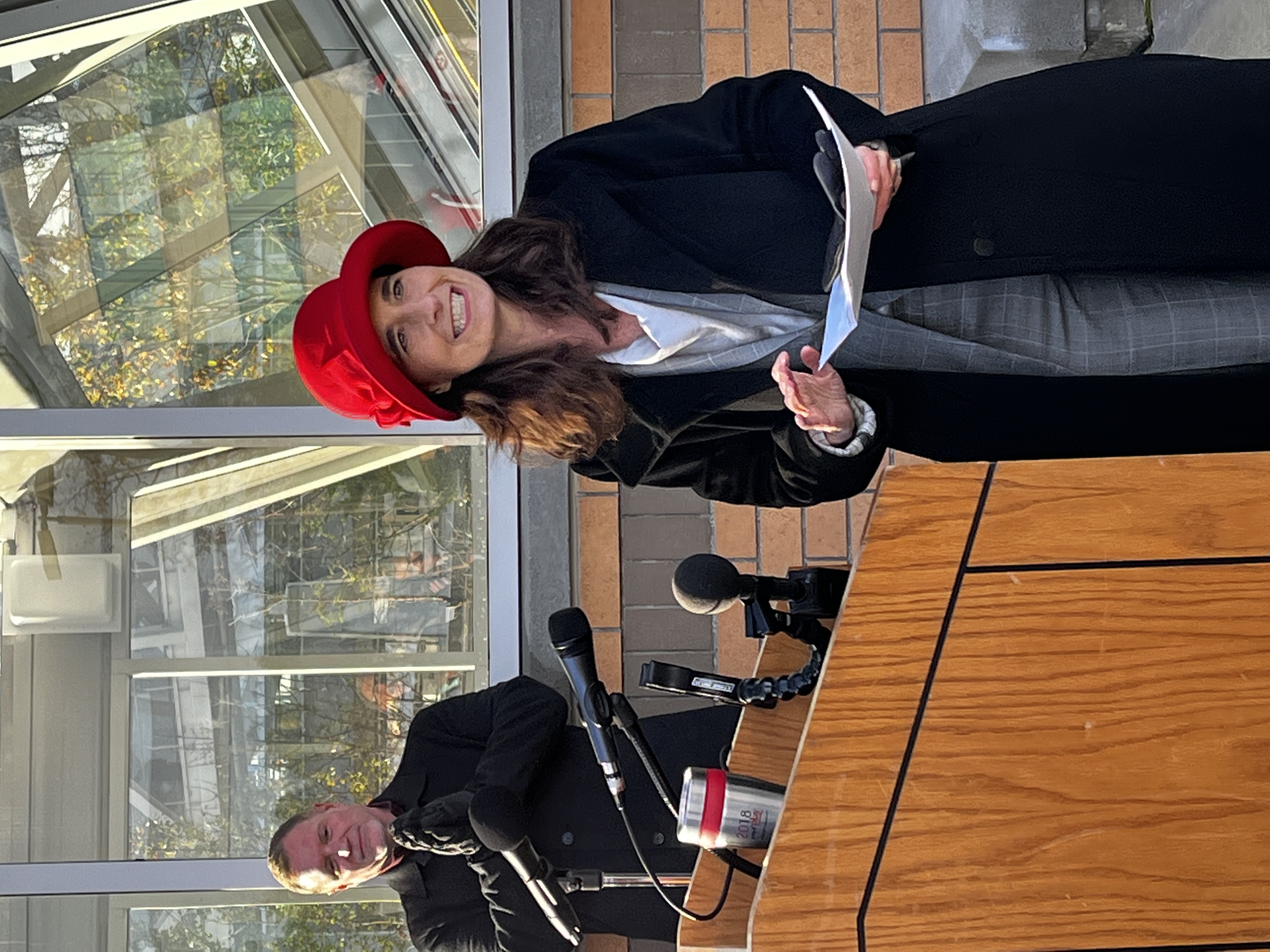 Chairman Jeff McKay said that if anybody had doubts about the significance of transit after yesterday, he had a story to tell them that happened the night before. He got in the garage at the Reston Town Center at the end of his near-last event, and his next event was in Mount Vernon in Fairfax County. "I typed it into the GPS, and it said an hour and 22 minutes by car. It took every second of that hour and 22 minutes last night in the dark rain to get from Reston to Mount Vernon," McKay said.
Transit is the future of Fairfax County, McKay said. It creates ecologically sustainable communities, building equity and opportunity since transit connects people to high-quality employment and opportunities.
Supervisor John Foust (Dranesville) congratulated Mayor Sheila Olem. Foust recalled that years ago, when he had the chance to join the Board of Supervisors, Connolly was chairman.
"Things were going crazy concerning whether this project was going to happen," he said. "I never saw anyone with so much persistence and just wasn't going to let this project get away from us. Many people deserve congratulations, but my personal observation, no one deserves it more than Gerry."
Foust said that when anyone asks him where they should live in Fairfax County, he "doesn't even think twice. … Move to Herndon," Foust said. "It's so awesome, (and) now it has a Metro."