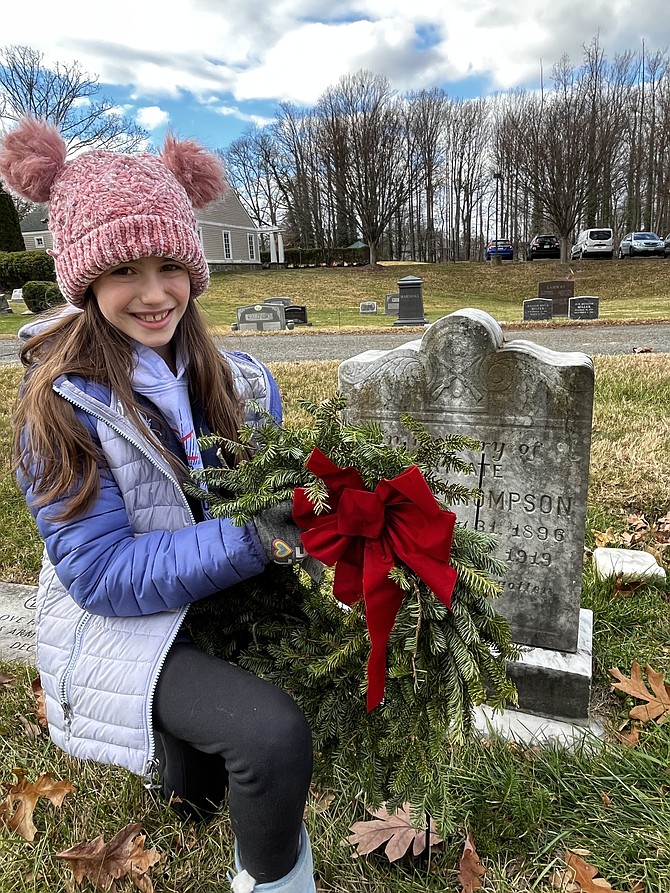 Chestnut Grove, a 25-acre historic cemetery in northwestern Fairfax County is the final resting place for 927 
United States veterans, representing every branch of the military service and the majority of U.S. conflicts. Perhaps there are more that have yet to be discovered. They are a diverse group of veterans, sons and daughters, fathers and mothers, sisters and brothers from various religious, ethnic, and cultural backgrounds who sacrificed in service going back to the War of 1812.
On Saturday, Dec.16, approximately 700 volunteers gathered at the cemetery shortly before noon. The diverse population spread out over the grounds and called to mind the waves of an ebbing sea, flowing up and over the hills at Chestnut Grove Cemetery, located at 831 Dranesville Road in Herndon.
Like Arlington National Cemetery, Chestnut Grove is a participating location for a Wreaths Across America (WAA) Day wreath-laying ceremony. VA0143P can be searched on the Wreaths Across America website for testimonials and remembrances.
Freedom has to be protected and passed on for our children to do the same, or "one day we will spend our sunset years telling our children and our children's children what it was like in the United States where men were free," said Susy Ledgerwood, member of host and organizing group, Herndon Woman's Club.
Many young people, families, and elderly could be seen among the crowds of volunteers. The older youth congregated in groups, wearing similar scout uniforms and sports team jerseys with the names of regional organizations and schools emblazoned on them. Younger children huddled beside their parents or sat high on their shoulders to watch the laying of wreaths representing each branch of the United States Armed Forces and those taken prisoner of war or missing in action. Older people walked carefully, keeping to the edges of the crowds, many with canes or walkers; loved ones helped others. At some gravesites, individuals stood alone.
They and a million other volunteers from more than 2,800 locations across the country came together that Saturday to support Wreaths Across America's mission to "Remember our fallen U.S. veterans, Honor those who serve, and Teach your children the value of freedom."
According to Ledgerwood, two of the  927 deceased veterans remembered that day at Chestnut Grove have the Star of David on their tombstones. Instead of wreaths,  Herndon Woman's Club chose for volunteers to place a remembrance stone, visitation stone, at those gravesites, along with a note identifying who placed the stones.
"You should always thank the veteran when you put the wreath on their tombstone. It's a way of honoring them," said local Aiden McIntosh, 15, who came to lay a wreath.
Early this year, Wreaths Across America announced that the theme for 2022 would be "Find a Way to Serve," inspired by the American Rosie MovementTM. It told the stories of the women known as "Rosie the Riveters" during World War II. The movement encouraged young people to participate in their communities and serve in small but meaningful ways. WAA has provided a redesigned educational curriculum to encourage young people to find ways to serve. "You don't have to be in military service to serve your community and country," said Karen Worcester, executive director of Wreaths Across America,
Some organizations that assisted with the Chestnut Grove ceremony included the Herndon High School Navy Junior ROTC, Fairfax County Emergency Response, Wayne M. Kidwell American Legion Post 184 Herndon-Reston, Herndon Woman's Club, and sports and scout organizations.
What Is Involved in Delivering Wreaths?
About six Woman's Club ladies welcomed an 18-wheeler delivery of balsam branch wreaths with red bows the Monday before National Wreaths Across America Day. The group, armed with small parade flags, held their hands up and waved their 6-inch American stick flags, crossing four lanes of busy Dranesville Road traffic.  Only one person considered driving around them. The driver of that vehicle changed their mind when a club member cast an evil eye at them and fiercely waved her stick flag.
Maurice Jones, a volunteer truck driver, pulled his big rig past the cemetery entrance. He skillfully backed the tractor-trailer toward the cemetery, checking his mirrors and waving to the women who had welcomed him and the truck's cargo. Jones crossed all traffic lanes by turning the tractor-trailer 90 degrees, straightened out the semi-trailer, and backed down the cemetery road.
"Hampton Roads Moving & Storage Wreaths Across America," the truck's sign read. The company had donated its rig, gas, driver, and time to the mission. Chestnut Grove Cemetery was one of many stops on Jones' round trip from Norfolk, VA, to Columbia Falls, Maine, for the wreaths and back to Virginia. "When I left the service, I was a captain … field artillery," Jones said. "That was back in 1992." He drove the truck in honor of his many family members who served. "The Korean War. My uncles, a few other family members," Jones added.
No matter the day, every volunteer contributed to the mission to "Remember the fallen, Honor those who serve, and Teach the next generation the value of freedom."
One volunteer drives one tractor-trailer. One volunteer stacks one box at a time. A volunteer removes one wreath. One volunteer, possibly accompanied by a young person, reaches out. One wreath is delivered to a veteran's grave. One veteran's name is spoken aloud, honored, and remembered. One young person is taught the values that Americans cherish. One wreath is placed on one veteran's headstone.