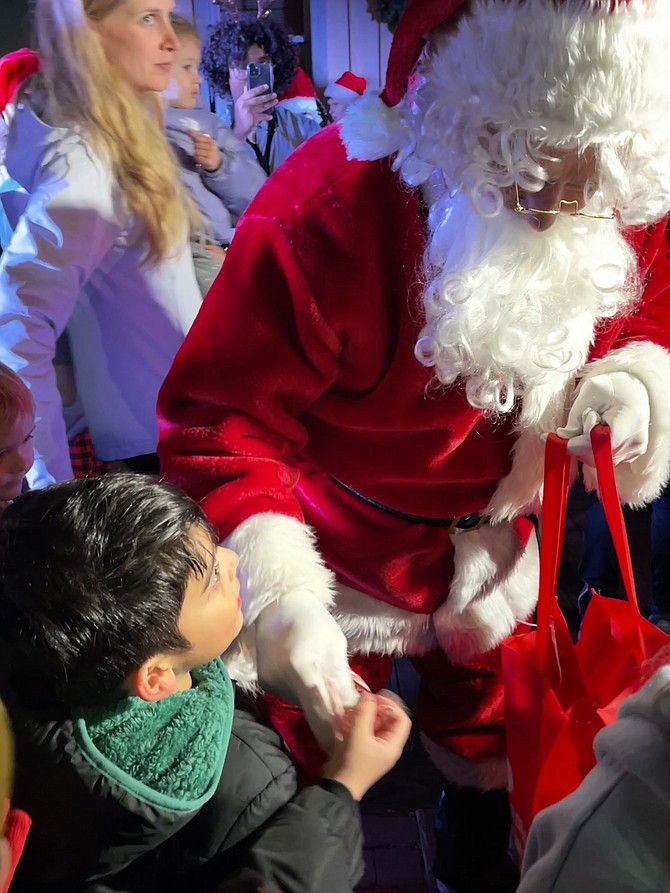 The Herndon Chamber of Commerce presented the Holiday Tree Lighting & Sing-Along 2022 Saturday evening, Dec. 3, on the Town Hall Square in Herndon.
Laura Poindexter of the chamber said that 14 sponsors came forward to make the tree lighting and sing-along happen, including Northwest Federal Credit Union, Herndon Moose Lodge 2274, Green Lizard Cycling, Mile 20 at Mediterranean Breeze, and Queenb Creative.  Poindexter  welcomed Mayor Sheila Olem and Councilmember Signe Friedrichs, who stood beside her.
Olem reminded everyone that the Herndon Station on the Silver Line is open, and Herndon is the only town in the Commonwealth with Metro. She added that the Pride of Herndon Band presented at the Metro opening just like it was that evening for the Holiday Tree Lighting. She invited everyone to the Menorah Lighting on Dec.18 to join the Nachman family and others who put it up years ago on the Town Square and will continue to do so in the future.
Olem  counted, "Five, four, three, two, one." The tree glowed against the night sky, and the caroling began with music by the  Herndon High School Band led by Kathleen Jacoby, director of bands at Herndon High School.
John Boylan, president of the chamber, said the organization does three things very well, commerce, connections, and community. "That's where we are tonight, a great community," Boylan said.
A special thanks went out to the Town of Herndon Public Works, Herndon High School Band, Fairfax County Fire Station 4, and mayor Sheila Olem.