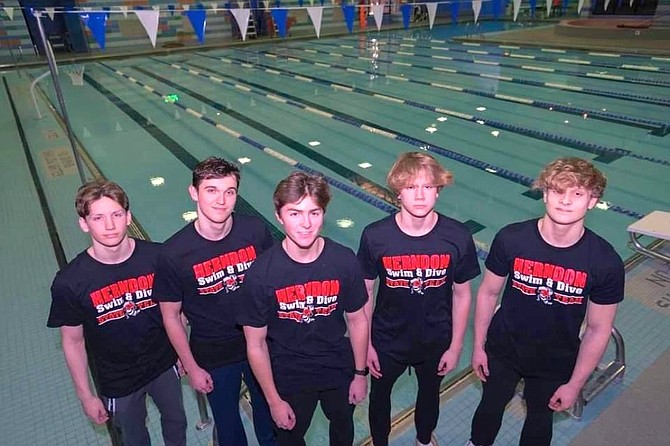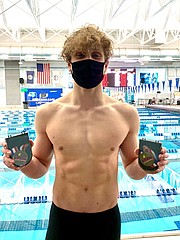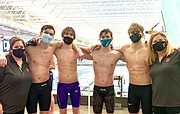 Updated, March 6, 2021
Members of the Herndon High School Boys Swim Team won two champion places and ranked eighth overall, with only four swimmers, at the Virginia High School League (VHSL) Class 6 State Championship at the Jeff Rouse Swim and Sport Center in Stafford, Va., on Thursday, Feb. 25. Even with the season's disrupted training and the meet postponed twice due to inclement weather, the team arrived strong and ready to win.
Swimmers Noah Dyer (sophomore), Cooper Hill (senior), Will McClough (freshman), and Rian Graham (freshman) placed 1st in the 400 Free Relay becoming State Champions. Their time was an All American Consideration and just missed the Herndon High School record. Nonetheless, Dyer posted the top leadoff time of 45.50, which helped them win 1st place.
Dyer captured the top spot in the 200 Free and was the only swimmer to crack 1:40, posting a time of 1:38.82. In the process, Dyer became State Champion, set a new Herndon High School record and All American Consideration.
In the 100 Free, Dyer placed 2nd, setting another new Herndon High School record. He battled Aiken Do from Woodson to the finish, touching behind in 45.61 to 45.57. Dyer's 200 Free and 100 Free were personal best times.
Graham placed 3rd in the 100 Fly, swimming a personal best time of 50.66.
Swimmers Dyer, McClough, Hill, and Graham placed 5th in the 200 Freestyle Relay. Dyer set another Herndon High School record, the 50 Free in 21.31. His strong showing and racing skills broke one of the longest-standing records on the Herndon High School record board, one that Reinaldo Faberlle set and held since 1995. "Last summer, I was concerned that we may not have a season, much less States.  So, I'm thankful that we were able to compete," Dyer said.
"What a way to end the season," said Kathy McLaughlin, Coach HHS Head Boys/Girls Swim and Dive team.
According to Jamie Graham, mother of Rian Graham, the boys were dedicated and trained hard. "We are thankful for the coaches and older swimmers, like Noah, who have taken Rian under the wings. We are excited about what this team can do in a 'normal' season next year," she said. Dyer added that it was a "total team effort." "I'd like to thank coach Mclaughlin, coach Keeler, and the entire Herndon family. It was a challenging season, but we kept each other motivated and were able to execute. Go Hornets." he said.
The results of the 2021 VHSL Class 6 Meet 2/9/2021-2/25/2021 are available online.