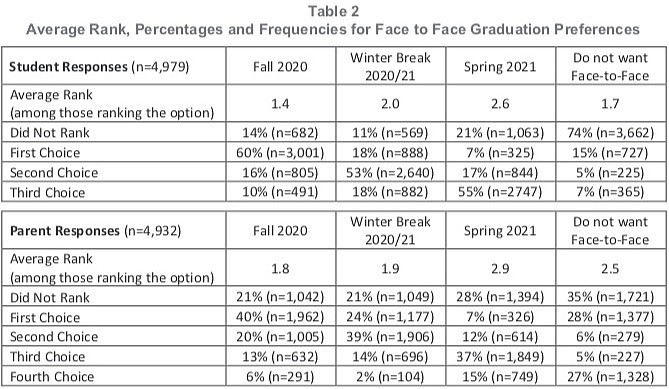 Superintendent Scott Brabrand dashed any remaining hopes of summer in-person commencement ceremonies for the Class of 2020. After receiving results from high school students and parents on his Survey on Graduation Preferences, Brabrand said the School Board agreed on his recommended approach. They committed to celebrating the seniors "in the safest and most personalized manner possible."
According to the message, high schools would schedule individual photo opportunities in June with each graduate wearing their cap and gown along with appropriate cords and medals. A limited number of family members might attend. At that time, seniors would receive their diploma. A Class of 2020 celebration video would be produced and distributed at no cost to members of the Class. As for a face-to-face graduation ceremony, Brabrand said, "If it is possible to gather safely in large groups, we will plan to do so at each of our high schools during the fall months. If conditions have not improved by then, we will monitor conditions through the winter and spring to see if an in-person ceremony is possible."
Brabrand added: "Based on data from the Fairfax County Health Department, a summer in-person ceremony poses too many health risks and too much uncertainty with regard to social distancing requirements and restrictions on large gatherings that could still be in effect at that time. Health Department data indicates that Fairfax is still experiencing community spread of the virus with increasing infection rates and a University of Virginia model predicts the number of cases will remain elevated in Fairfax in the summer."