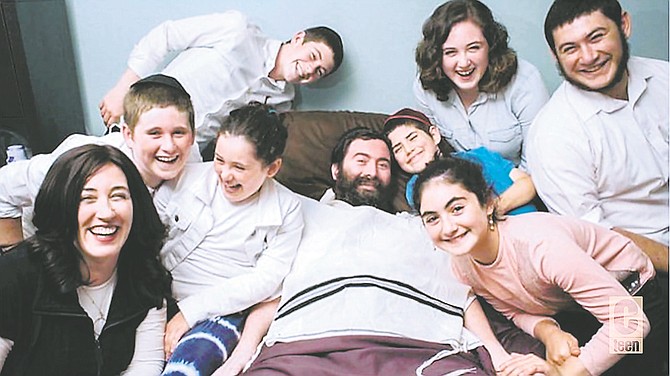 Google Dina Hurwitz. You may find a video of a poised, articulate, lovely woman speaking before thousands of fellow Chabad emissaries at their convention in 2016, or before an attentive crowd at a lecture somewhere across the USA. "She's got it all together," you may think.
But behind that smooth facade lies an honest, fragile, deep and strong woman warrior. A woman who is facing an excruciating challenge with candor and courageous faith—a challenge that has changed her family's lives in unimaginable ways.
Dina was a typical Chassidic girl. Fun, pretty, and well-versed in Torah. Born in Nashville, Tennessee, she was raised in California. At 14, she went to the Crown Heights neighborhood of Brooklyn, N.Y., to visit family. Her cousin's best friend was a young man named Yitzi Hurwitz. "I never met anyone with so much joy and excitement. He literally danced when he walked. In the end, that's who I'm going to marry," she told her mother.
Dina and Yitzi did marry in 1996, when she was 21 years old. She was sure that no one else could possibly have such a deep love. Their delight and happiness shines from pictures of the two.
The young couple moved across the country to start a Chabad center in Temecula, Calif., a small community about 100 miles from Los Angeles. "Yitzi's life dream was to be a foot soldier of the Lubavitcher Rebbe and show people how beautiful it is to be Jewish," explains Dina. A hands-on father, he adored their growing family. Life progressed, filled with the normal demands of work, travel, community, family.
In 2012, everything changed.
Yitzi started complaining, "Something's not right with my mouth," he said. Friends joked about the non-drinking rabbi who had slurred speech, sounding drunk. Six months of testing led to a devastating diagnosis: bulbar onset ALS, the most aggressive type of this neuromuscular disorder more commonly known as Lou Gehrig's disease. Communication between the brain and muscles fails to work properly, and the muscles slowly atrophy and die. At first, Yitzi's speech was affected, with some diminishment on his left side, but many normal activities were still possible. He was able to communicate through a text-to-voice app. But the disease forged mercilessly ahead.
Dina helplessly watched "this outgoing musician, storyteller, dancer, rabbi and great communicator, who could talk to anyone in the world," lose all those abilities over the period of a year-and-a-half.
Today, Rabbi Yitzi is bedridden and mostly paralyzed. A tracheotomy has extended his life well beyond the expected two-year duration. After nearly five years, this dancing, singing beacon of life is more than 95 percent immobile, except for two things: He can smile, and he can move his very expressive eyeballs. Period.
Many would be tempted to wallow in self-pity or anger. But the couple has heroically risen to the challenge. Even with these unimaginable limitations, Yitzi expresses intense love and optimism, and deeply touches many lives, combining the latest technology and his ironclad determination to find whatever way possible to give and spread happiness. He shares his indomitable spirit by laboriously writing a blog with the movement of his eyes, focusing on each letter with a Tobii gaze-activated keyboard; a daylong, exhausting task. This weekly blog has thousands of followers around the world.
And as for Dina? At first it was about sheer survival (mental, physical and logistical): raising their seven children, dealing with ongoing complex medical issues, finances and countless other demands, without collapsing or marinating in bitterness. But this enormous challenge has grown, and grown her, into more.
She has cried. And mourned. And been bitter. And coped. And laughed. And loved. And learned.
She shares her insights, frustrations, faith and compassion freely. A small family blog, "The Caffeinated Thinker," started before Yitzi's illness, has grown into an honest and empathetic source of strength for thousands of readers. Dina shares her path, how she learned to differentiate between pain and suffering, and how a woman who was "completely paranoid about public speaking" realized that she had vital life lessons to share. She now speaks about her story in many venues around the world with humor, poignancy, a few tears and, most importantly, gritty, real-life inspiration that every member of the audience can take home and apply to their challenges, big or small.