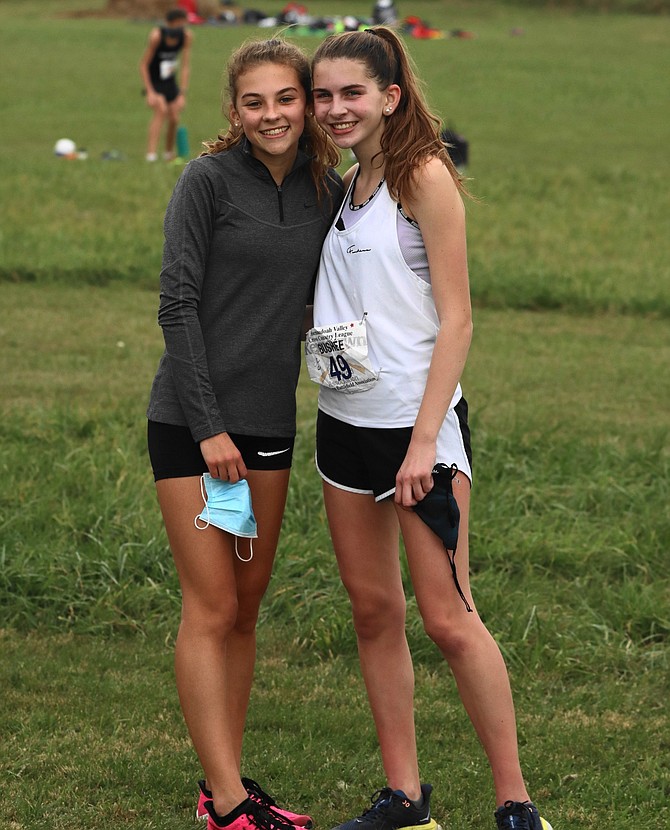 The most challenging distance to go for Herndon High School freshman and cross country runner Gillian Bushée of Reston was the distance from her bed to the front door each morning. When the executive committee of the Virginia High School League made official in late July that there would be no public high school sports in Virginia this fall, the hard work and long and lonely morning runs paid off for the fifteen-year-old on Saturday, Nov. 21. Gillian had found a way to compete outside the normal bounds of high school track and crossed the finish line first at the inaugural Shenandoah Valley Cross Country League 5k . With a recorded time of 18:04.6 Gillian broke the record held by Herndon High student, Carolyn Hennessey 2011 by nearly 8 seconds. Her average mile speed was 5.48.7.
COMPOSED of four "regular seasons," the purpose of the league's race series was to provide a safe opportunity during COVID-19 for all runners, especially those at the middle school, high school, and college and post-collegiate levels. They could compete and keep their competitive edge according to the Shenandoah Valley Cross County League website.
"This race was a long time coming," said James Luehrs Coach. "She (Gillian) has been training hard since the spring, so I'm not that surprised she ran the time. What surprised me is her dedication, maturity, and trust in the training. Only the great ones have that," he said.
Gillian's stunning performance catapulted the newcomer to running to #3 all-time in course history, .61 behind Libby Davidson at E.C. Glass ranked #1 with a time of 17:43, and Weini Kelati at Heritage ( Leesburg) ranked #2 with a time of 17:55.60.
"Well executed race on a tough course. With the lack of a season, she stayed consistent and motivated and had a personal best time. Great work Gillian," said Chris Geary of Herndon.
Gillian said the league enforced COVID-19 protocols. Except for warming up, racing, and cooling down, every human on the property wore a mask, even after warming up. Athletes might remove their masks when their wave moved up to the starting line. Each wave at the 5k started 90-seconds apart, seeded fastest to slowest, to ensure that no one caught up to the group in front of them.
"We didn't all start at the same time...I was pretty much in the lead, and I ended up catching up with the group in front of me. I used them as my motivation," Gillian said. She'd get close to each person, speed up, pass that person, and keep going on to the next. "There were a lot of hills, so I made sure I passed people on the hills because that is when most people slow down." With half a mile to go, Gillian said she knew she couldn't give up and ended up going "pretty fast." "The last half mile is basically all downhill. It felt crazy. I could not feel my legs; I was basically falling down the hill...I didn't realize I got 18:04 until I settled down."
AT THE URGING of her mother, Sandy Curtis who is a runner, Gillian decided to give it a try. The former soccer player never looked back. "It was so exciting to see Gillian emerge from the woods and start passing runners who were in heats that started before her… Seeing her run to the finish line was amazing. I knew she had run a very solid race and gotten an excellent time," said Curtis.
Herndon High School teammate and friend Tea Geary, 15, of Herndon, said, "Gillian worked super hard this year throughout quarantine and it was amazing to see it being payed off during these races."
After the race, Kernstown Battlefield Cross Country tweeted to Gillian, "Congrats ma'am! You had a tremendous season, thank you for trusting us."