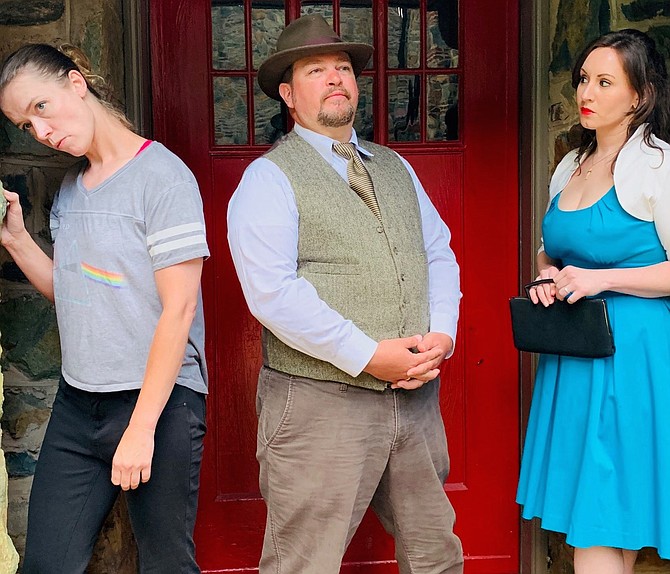 ArtsSpace Herndon will be welcoming the classic "No Exit" by Jean-Paul Sartre to its performance venue. Produced by Dark Horse Theatre, "No Exit" is a tale about souls caught in the afterlife for all eternity. "There's a reason why this show is so well known. It is timeless," said Nataschia Parnian, managing artistic director, Dark Horse Theatre. "It is relevant to everyone's story. I love that the text probes into one's ethical values and personal limitations."
"Without giving too much away, there are some major surprises in our production," added Parnian. "One thing I can tell you; we have placed each of the characters from different time periods. This gives us a unique opportunity to explore how the political climate and social norms of these times would meld together in one room.

"Artspace Herndon is a very special theatrical venue. It is so intimate that it is exhilarating to act and direct in," said Parnian. "There is nowhere for the actors to hide. You can't get away with sleight of hand there.
"We have sought to make professional theatre approachable for all. Ticket prices for all performances are $20 or less," said Parnian. "We are more of a fringey, nomadic professional company. We can remain flexible in our staging."
For an immersive experience, "we are putting the audience in the round, so they will not only be watching the play unfold, but will have the ability to watch other audience members across the way," said Scott Pafumi, Dark Horse Theatre Company member.
Dark Horse Theatre has also "done a lot of mining of the text for hidden meanings and backstories. We hope our portrayal will be fresh and vivid, while also respecting the author's intent," said Pafumi who plays a key character in "No Exit."
Joining Pafumi in Dark Horse's production of "No Exit" is Skye Lindberg who plays Valet, a role traditionally played by a male. Lindberg is a graduate of the George Mason University Theatre program. The full cast includes Jane Steffen, a newcomer to Dark Horse productions and Arianne' Warner.
Satre's "No Exit" is "both a philosophical and existential play and should help serve as a springboard for good post show discussion with fellow patrons," said Parnian.
Inviting audiences to "No Exit" Arianne Warner said, "What sets Dark Horse apart is the shows we put on. We specialize in regional premieres, new works, and forgotten favorites."
Where and When
Dark Horse Theatre presents "No Exit" at ArtsSpace Herndon, 750 Center Street, Herndon. Performances Aug, 16 at 7:30 p.m., Aug. 17 at 2:30 p.m. and 7:30 p.m., Aug. 23 at 7:30 p.m., Aug. 24 at 2:30 p.m. and 7:30 p.m., Aug. 30 at 7:30 p.m. and Aug. 31 at 7:30 p.m. Tickets are $20 general admission, $15 student tickets available at the door and online at www.darkhorseva.com/shows