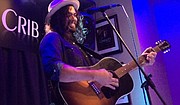 Chris Devine, Town of Herndon resident and host of The Crib house concerts, received a Notice of Violation taped to his front door from the town citing the Nov. 17 concert in his home an activity constituting "Indoor Entertainment use" not permitted on the subject property.
Devine shared the Notice of Violation, and described the concert venue launched in his home 2015 with words found on The Crib website: "intimate setting where all focus is on the artist's performance — the sound, lighting and artist-audience connection all come together for a special experience."
The Notice of Violation, signed by Fermina Rochac, CZA Community Inspector/Deputy Zoning Administrator and copied to David Stromberg, Town Zoning Administrator and Lesa J. Yeatts, Town Attorney, stated that while performing her duties as community inspector, on Nov. 17, 2018, Rochac, "observed 44 individuals enter the dwelling at (home address) between 6:30 p.m and 8:30 p.m. for a concert featuring Gina Venier and Lexie Hayden as advertised on the website www.cribconcerts.com."
The notice informed Devine this activity constituted "an Indoor Entertainment use," not permitted on the property, pursuant to Town Zoning Ordinance Section 78-50.6 PD-D and proffered conditions of Zoning Map Amendments ZMA # 01-103 and ZMA #10-101. The Notice ordered Devine to "abate the violation within fifteen (15) days. Compliance may be achieved by ceasing all unpermitted uses on the property. Through compliance, you will avoid further legal action, which may include fines and other penalties." The Notice also informed Devine he had the right to appeal the decision to the Board of Zoning and described the process and specified time limit.
"I was unaware anyone was outside watching that evening," Devine said. "No one came to the door, identified themselves as town staff nor asked what was going on." It was only when Devine saw the Notice of Violation slapped to his door nearly a month after the house concert, did he learn of the violation he said. A Jan. 7, 2019 web search of www.cribconcerts.com yielded the following page title and snippet: "Nov 17, 2018 - Artist: Gina Venier and Lexie Hayden. Ticket Price: General Admission $20. We are excited to welcome Gina Venier back to The Crib!"
Devine said that over the last three and half years, during which he hosted nearly fifty house concerts with twenty-eight different artists, no one up to now complained. Devine called attention to the fact the Notice was not a "Nuisance Violation" citing noise, parking, or disorderly behavior, but a zoning ordinance violation. Devine's immediate neighbor, Kirk Winstead, confirmed the lack of noise or parking issues. "I have not experienced any noise issues to the point where. despite sharing a wall, I cannot discern any activity occurring," Winstead said. "I have also not seen or experienced any parking or external noise issues associated with his guests."
How House Concerts Operate
Devine shared how his guests can sign up to request seats at any of The Crib's upcoming events listed on his website and make a "suggested donation" to the artists in advance. "100 percent of donations go directly to the artist. Every artist…every time." Devine said, "I hold the virtual tip jar as a volunteer service to the artists and pass all the donated funds to them." Devine compared his house concert gatherings to political fundraisers in private homes where invited people gather and money changes hands. , He said the concerts are not open to the public as he can refuse anyone entry.
Devine said he does not sell anything to guests. He pays for the light refreshments he serves his guests and artists. "It is not uncommon though for listeners to bring their own beverages and snacks to my concert, the same as guests do during a backyard BBQ."
Devine's description of his house concert format coincided with that by Anders Thueson, Producer, SongPo Radio, WERA FM Arlington. "House concerts are philanthropic by nature, friends and neighbors coming together to enjoy the talents of artists both local and on tour, opening their homes, sharing food, drink; money is not the common denominator," Thueson said.
In an interview, artist Dan Rodriguez, who performed at the July and December 2018 Crib concerts concurred with Thueson. "It is the only format that connects fans directly to the artist and doesn't try to make a profit off of it," he said.
Why the Appeal
Devine said he spoke in person with Town of Herndon Zoning Administrator David Stromberg a few days after receiving the Notice, but the meeting did not fully answer all his questions. Afterward, the Connection requested clarification and comment on the zoning ordinance to the Town of Herndon and received sections of the zoning ordinance relative to its inquiry.
Devine said he appealed the violation decision. In his Statement of Grounds for his appeal, he cited the Notice as invalid based on his belief that the external characteristics alone were not sufficient to "characterize the activity as a violation."
Additionally, he said The Crib's house concerts do not constitute "a Commercial Indoor Entertainment use," as defined by the Herndon Town Zoning Ordinance. "The owner acts as host, …guests make a minimum suggested donation to the artist, [and] 100 percent of the donated amount goes to the artist."
Devine discussed what might have caused his house concert to appear a public business operation versus private gathering. He provided three considerations. Devine said perhaps it was the poster he put up at a local restaurant announcing the lineup of performers at The Crib and the website.
Devine said that the Town might have confused "The Crib house concert," a hobby of his started in 2015 with his new venture "Crib Music Enterprises LLC (CME) 2017 which exists to launch his future business. Devine said that confusion between his two ventures might be because he added the wording "Crib Music Enterprises, LLC" to The Crib website for "copyright protection." Devine added he has since removed CME from The Crib's website. He pointed out the Town addressed the Notice to his name at his home address, and beneath it "Crib Music Enterprise LLC"; his name again and home address.
Richard Castro, Certified Public Accountant and Devin's tax preparer for tax year 2017, stated in a letter to the Connection at Devine's request: "I have a thorough understanding of both his business ventures — Crib Music Enterprise LLC (CME) launched in November of 2017 — and his hosting house concerts (The Crib) dating back to June of 2015…the house concert activity is operationally unrelated to CME as a business."
Finally, Devine said perhaps it was the money, which might have made the concert appear to be a commercial activity. Devine said he was not going to cease all unpermitted uses and that he would keep his commitments to the artists and audiences. Devine added he started a Gofundme campaign to help cover fines and possible legal fees since he is appealing the decision. Devine said that he would like the town to tell him what he can and cannot do to have house concerts in his home as private events. "Where's the line?" he asked.
What Do the Artists Say?
"I moved to the USA because Americans love music. They are open to listening; they are welcoming. It's the land of opportunity and the land of the free. Chris has given the gift of sharing incredible musicians with his like-minded friends in Herndon. His work will eventually seep into the community by bringing local bands to larger venues." – Katrina Burgoyne, singer/songwriter, performer at The Crib
"House shows have done so much for artists. There are music lovers who want to be part of the musicians' stories. It is as honest as it gets." – Christian Lopez, songwriter/guitarist, performer at The Crib
"The Crib and other house concerts models like it are essential to the independent touring artist. It is the only format that connects directly to the artist and doesn't try to make a profit from off It." – Dan Rodriguez, singer/songwriter, performer at The Crib
"House concerts provide a great way for members of any neighborhood to get out of their house and engage and connect with their local community over a common interest. It is also invaluable for touring musicians to have the opportunity to connect on a face-to-face level with these supportive communities around the world." – Julz Parker, guitarist, performer at The Crib
"How cool is it to have Nashville musicians coming to Herndon, to my neighborhood." – Howard Hollar, Devine's neighbor