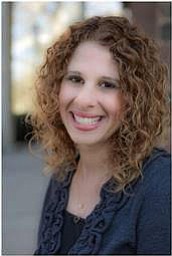 Congregation Beth Emeth (CBE) has announced the appointment of Melissa Heifetz as Executive Director, only the second individual to hold this title in the synagogue's 39-year history. Her appointment comes as the current Executive Director, Linda Eisinger, retires after nearly 25 years of outstanding service. Heifetz begins her new role at CBE April 30.
"CBE is a thriving Jewish congregation in western Fairfax County, which needs an executive director prepared to help us move into our future," said CBE President Marty Zelman. "Our senior leadership and members of the search committee were unanimous in the choice of Melissa Heifetz, who will bring fresh ideas, a new perspective, solid experience, and an understanding of our unique and vibrant community to her new role."
"I am thrilled to take up this new challenge, which combines my non-profit management experience with my interest in maintaining and growing the vital Jewish community in Fairfax and Loudoun Counties," said Heifetz. "I am especially excited to serve a congregation with such a warm and welcoming atmosphere."
Heifetz has been a member of the CBE community for nearly a dozen years, and has had a long career in the nonprofit sector. Most recently, she was Executive Director of The Arc of Loudoun at Paxton Campus, where she was named the Loudoun County Chamber of Commerce 2018 Non-Profit Executive Leader of the Year.
ABOUT: Congregation Beth Emeth is a welcoming, egalitarian Conservative Jewish Congregation located at 12523 Lawyers Road, Herndon, serving Western Fairfax and Eastern Loudoun counties in Northern Virginia. With nearly 400 families, Congregation Beth Emeth is "just the right size" — large enough to meet the spiritual, educational, and social needs of members while preserving the warmth of a close-knit community. To learn more, visit bethemeth.org.
More like this story