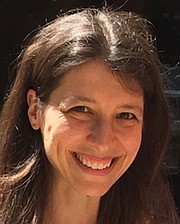 The Beth Emeth Early Childhood Center (BEECC) in Herndon promoted Robin Cohen to center director for the 2017-2018 school year, beginning Tuesday, Sept. 5.
Cohen worked as curriculum developer for the center prior to her promotion and brings 25 years of experience to the position.
"Robin Cohen was a natural selection as our BEECC director," Linda Eisinger, executive director of Congregation Beth Emeth, said in a press release.
In 2000, Cohen was the founding preschool teacher of the Capital City Public Charter School in Washington, D.C. She has a bachelor's degree in psychology from Brandeis University in Massachusetts and a master's degree in education from Harvard University. She also studied the Reggio Emilia educational philosophy in Italy.
BEECC enrolls students aged 2 to 5 years old across Northern Virginia, including Reston, Herndon, Vienna and Fairfax, and is open to all children regardless of ethnic, cultural or religious background. Jewish customs, traditions and the Hebrew language are taught at BEECC. The curriculum is also influenced by the Reggio Emilia Approach.
More like this story