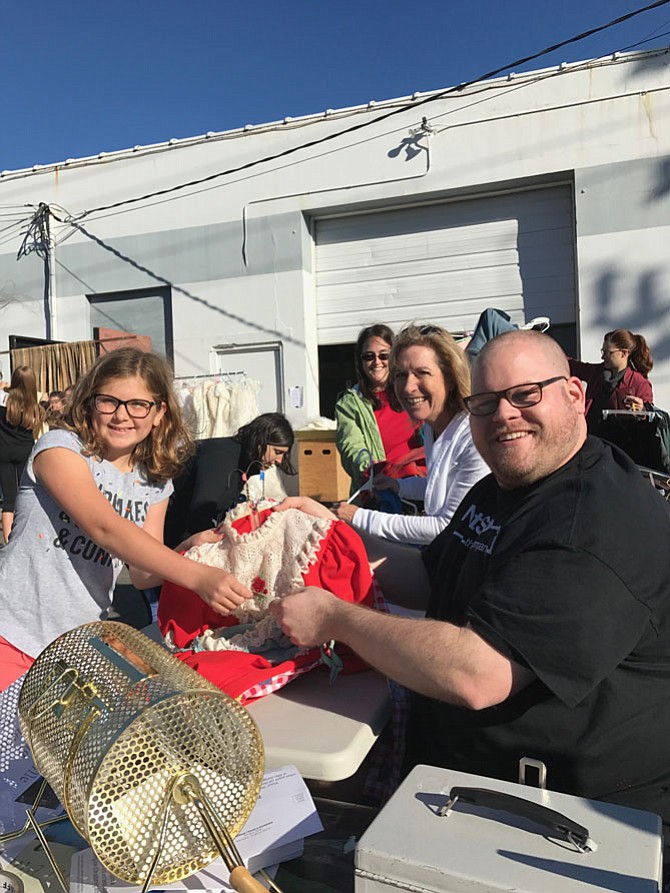 NextStop Theatre Company located in the Town of Herndon held a huge costume sale on Saturday, Sept. 30, 7-11 a.m. at their storage area, 750 Center St., Herndon. Sept. 30 marked the last day of the nonprofit organization's fiscal year.
Matt Thompson, Managing Director of NextStop Theatre Company reported the sale featured more than 50 percent of the professional theatre company's costume inventory. Proceeds would benefit the nonprofit organization's outreach and education programs.
Evan Hoffman is the Producing Artistic Director of NextStop Theatre. Dressed in a fuzzy white bear costume, Hoffman lumbered about the parking lot turned costume shop putting the finishing touches on the sale. With a cold wind blowing down Vine Street, Hoffman shuffled off to get a hot coffee at the Green Lizard Cycling & Coffee Bar. Upon his return, Hoffman reported a cyclist had given his costume "the eye."
Hoffman said that the cyclist asked him why he was dressed like that. Upon learning the bear costume was part of the theatre's costume sale being held that day, the cyclist literally bought it off Hoffman's back. Hoffman had returned to change out of the costume, back into human clothes, and give the bear costume to its new owner.
Claire Tarallo, 11, of Herndon and her mother Liz arrived at the sale shortly after 9 a.m. Claire was on a mission. She wanted to dress up like a fairy tale character for Halloween and knew she could find something appropriate at the NextStop Theatre Costume Sale. "My friends and I want to be fairy tale characters for Halloween," Tarallo said. After looking for a short time, Claire spied two items, snatched them up, and made her way over to Thompson to pay. "I'm buying a little Red Riding Hood costume and a Little Bo Peep hat," Tarallo said happily.
As the costume sale came to close shortly after 11 a.m., Hoffman reported NextStop Theatre Company had sold over one-half of the total inventory they had on sale that day with approximately 150 transactions.
For more information on NextStop Theatre Company, visit nextstoptheatre.org