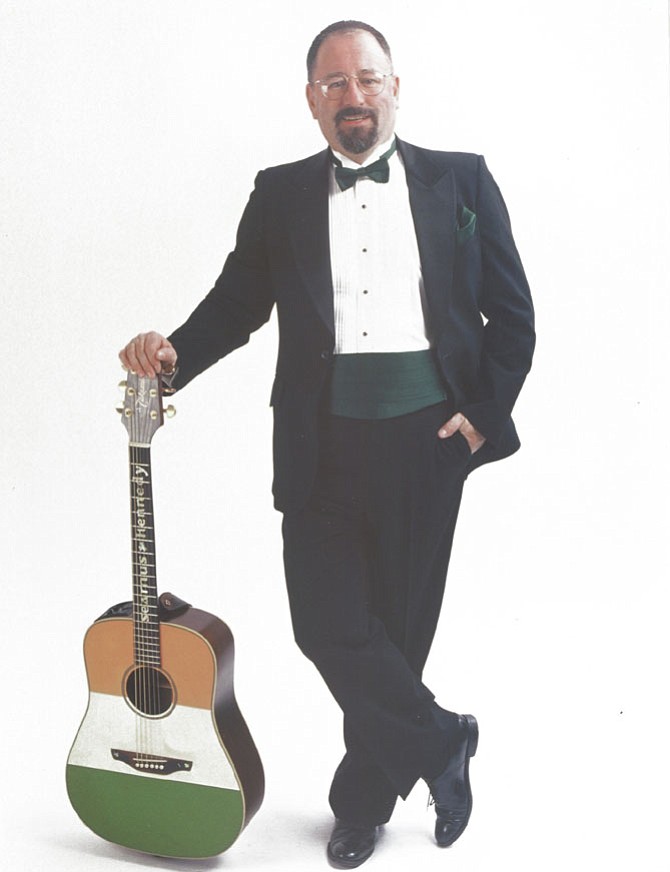 Get ready to get your green on a bit early for St. Patrick's Day as Seamus Kennedy, Irish songwriter, guitarist and comedian, makes a concert stop in Herndon during his East Coast tour.
The Folk Club of Reston/Herndon will present Kennedy's performance on Tuesday, Feb. 21, at Amphora's Diner Delux, 1151 Elden St., Herndon as part of its third Tuesday Concert Series. The show starts at 7:15 p.m. with cash bar and dinner available.
Kennedy is a multi-year recipient of the Washington Area Music Association WAMMIE award for "Best Irish/Celtic Male Vocalist." He is not only a nationally accomplished singer and musician but also a noted all-around entertainer and veteran of the Irish/Celtic festival circuit.
Kennedy is known for his quick rapport and easy banter.
Ben Hamblin, president of The Folk Club, said, "Kennedy will put on a fun show, and he is a superb musician. Since Kennedy was born in Ireland and plays much Celtic music, it will be something of a St. Patrick's Day warm-up for us."
Steve Potter, The Folk Club booking manager, said that although he receives many booking requests from agents and performers throughout the year, "I had a few club members who had asked for Celtic music this year. I thought it would be kind of cool if we could schedule someone near St Patrick's Day. We'd heard a lot of good things about Kennedy. And since we book performers for our Tuesday night concerts a year in advance, we were fortunate to get Kennedy between his weekend performances."
"Reservations are encouraged," Potter said. "Seating is limited to slightly over 100 patrons. During last month's concert, we had to turn away 12 people who tried to buy tickets at the door. The room had reached capacity limit."
For concert reservations contact Dave Hurd, The Folk Club of Reston/Herndon, at DAHurdSR@cs.com. Suggested donation is $11.
Concerts in the third Tuesday Spring Series showcase various styles of musical entertainment from regional, national, and international talent. This season's lineup includes Mark Elliott & Runaway Home, a Nashville American group, March 21; Jack Willimas, songwriter and acoustic guitarist, April 18, Hicks & Goulbourn, UK folk and acoustic musicians, May 16, and Adam Hurt & Beth Williams Hartness, traditional Appalachian music, June 20.
The Folk Club of Reston/Herndon is an all-volunteer organization offering open mike nights, showcases, and concerts. The organization is dedicated to the appreciation of music and the preservation of folk traditions. Membership is open to all. For more information about The Folk Club, visit www. Restonherndonfolkclub.com.