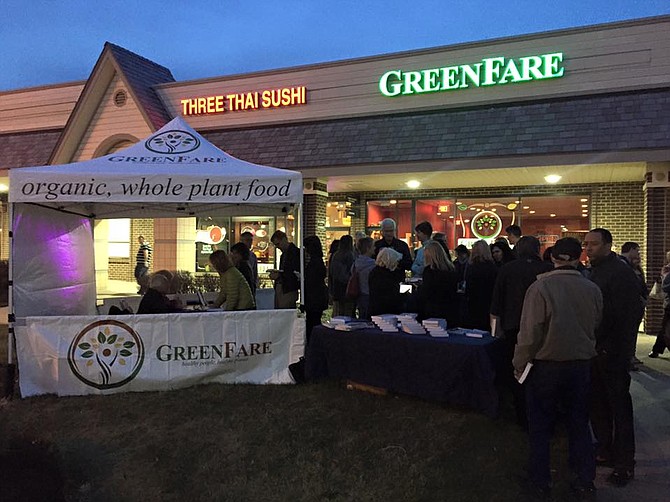 Monday, March 7, members of the Herndon Town Council including Mayor Lisa Merkel and Vice Mayor Jennifer Baker and Fairfax County Board of Supervisors Chairman Sharon Bulova joined in the official ribbon cutting for a new business at the Herndon K-Mart Shopping Center. GreenFare is a Herndon restaurant offering organic, whole plant food prepared oil free. The restaurant utilizes seasonal and local produce and prepares all food in the kitchen, so the freshness is evident. "Whole food, plant-based and delicious is what you can expect from the new GreenFare in the K-Mart shopping center," said Mayor Lisa Merkel.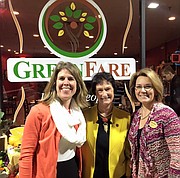 Located at 408 Elden Street in the town of Herndon, the restaurant is open 11 a.m. to 9 p.m. daily. Opened this past November, GreenFare is an innovative community cafe and learning center that serves organic, whole plant food in concert with medical professionals, environmentalists and animal welfare advocates who believe an optimal diet can transform the world. "We're not a restaurant, we're a mission," said restaurant owner and CEO Gwyn Whittaker. A graduate of Virginia Tech, she lost her husband to a heart attack at the age of 50.
"'Forks Over Knives' provided a wake-up call and was such a hopeful and powerful message, that people aren't destined to suffer or die from heart disease, or most of the common chronic illnesses in our country, if they choose a whole plant diet free of the addictive salt, sugar and fat. I reached out to T. Colin Campbell, who was kind enough to meet with me and ignite my mission to share this knowledge with others whom I thought could benefit," stated Whittaker.
WHITTAKER was motivated by biochemist T. Colin Campbell's studies on nutrition, and the documentary film "Forks Over Knives." The March 7 ribbon cutting ceremony was held from 6-7p.m. in front of the GreenFare store. A tent was set up with book signings by special guest T. Colin Campbell. Free appetizers and Kombucha put the crowd in the mood for the ribbon cutting. The kitchen is run by Justin Matthews, an alumnus of L'Auberge Chez Francois. The restaurant's operations manager is Pericles Silva, who has a degree in Sports Nutrition and developed the Healthy Eating program at Whole Foods in Reston for five years.
Unprocessed dishes included a chickpea and kale bowl, vegetable chili, spinach and sweet potato lasagna, eggplant lasagna (eggplant instead of noodles) and Garderner's pie. The Herndon restaurant has also welcomed musical artists to share their skills with patrons. On Thursday, March 10, beginning at 7 p.m. guitarist Rich Barry will play at GreenFare.
In addition to hosting one of Fairfax County's microbreweries, Herndon is the base of a craft roasted, small batch coffee business. Weird Brothers Coffee serves the Northern Virginia area including Reston, Herndon, Sterling, Vienna and Tysons Corner. The business offers full service coffee and espresso bar on wheels that travels to different commuter sites every morning.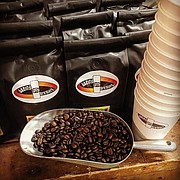 Weird Brothers Coffee is the creation of Paul and Kenny Olsen, two self-described weird brothers who have had a life-long love affair with fresh roasted, quality coffee. As an Army veteran, Paul experienced many customs and cultures across the country and the world. A trip to Ethiopia and the ancient city of Harar captured Paul's imagination and fed his desire to share the world's best coffees with family and friends. Kenny has also traveled extensively over the years working in many industries including coffee roasting and behind the counter as a barista.
Their mobile coffee vehicle or wagon also offers smoothies, pastries and other treats to complement fresh roasted Weird Brothers Coffee. Recently, Weird Brothers announced a partnership with the Boutique Bakeshop at 336 Elden St., Herndon. The Bakeshop will soon be selling Weird Brothers beans, and the demand for coffee drinks may determine if Weird Brothers coffee will also be sold there.
Original Weird Brothers Coffee blends offered by the brothers include Morning Kickstarter, a medium roast which features notes of caramel and garden blossoms to help start the day. The flavor Weird But Fierce is a bold roast with rich flavors of chocolate and citrus intertwined. Walking on Sunshine, a breakfast blend, has a full body and nuanced citric acidity rounded out with hints of caramel and toffee notes. To find out more about the Weird Brothers and where they will be selling their coffee, visit www.weirdbrothers.com/weird-coffee.html.