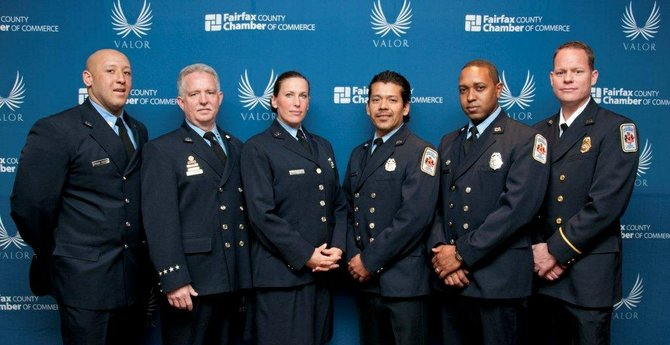 The water was swiftly rising as a lone woman was frantically crying for help from the roof of her car during the deadly flash flooding of Sept. 8, 2011. By the time first responders from Herndon's Fire Station 39 arrived on the scene in the Great Falls area, the vehicle had been swept 150 feet into the woods by the force of water and was now wedged against a tree.
With no rope or shoreline support, Firefighter Cory Parry and Technicians Thomas Barnes and Rolando Contreras made the decision to walk through the surging waist deep waters to reach the vehicle and bring the woman to safety.
Nearby, a man was sitting in his car as rapidly rising flood waters flowed around him, causing his vehicle to shift perilously close to the edge of the road and steep cliff beyond. Herndon Fire Station 39 first responders again took action as Lt. Erick Weinzapfel, Master Technician Reginald Wadley and Technician Michael Frames entered the water, pulled the victim to safety through the vehicle's sunroof and placed him in a basket from Tower Ladder 401 just as large sections of asphalt began breaking up.
For their acts of heroism that day, the men were honored March 21 with Bronze Medals of Valor at the Fairfax County Chamber of Commerce Valor Awards. Also honored from Herndon's Fire Station 39 were Technician Michael Eddye; Firefighter Namaste Bosse; Firefighter Brandon Winfield; Capt. Wayne Wentzel and Technician Peter Kehne, who each received Lifesaving Awards.
At the event held at the Hilton McLean Tysons Corner, the Chamber recognized 108 of the county's first responders at the 34th Annual Valor Awards. Members of the Fairfax County Police Department, Sheriff's Office, Fire and Rescue Department, as well as from the Towns of Herndon and Vienna, were given awards.
Thirty-five responders were given Bronze or Silver Medals of Valor, and their children will receive post-secondary education scholarships from the Valor Scholarship Fund, a 501(c)3 foundation. To date, more than $250,000 in scholarships has been awarded.
The flash flooding of Sept. 8, a result of 6 to 10 inches of rain that deluged the area, brought numerous calls for water-related rescues and 18 Fairfax County Fire and Rescue personnel were honored for their efforts that day. The firefighters saved dozens of lives by rescuing people who were trapped by rising water, in danger of washing downstream or were otherwise trapped by the severe weather conditions.
The Chamber also awarded 48 lifesaving awards and 25 certificates of valor during the ceremony.
"We have heard some remarkable accounts of heroism today," said Doug Brammer, chair of the Valor Scholarship Fund. "Having done this for a number of years, it just reinforces that when things are at their worst, our first responders are at their best."