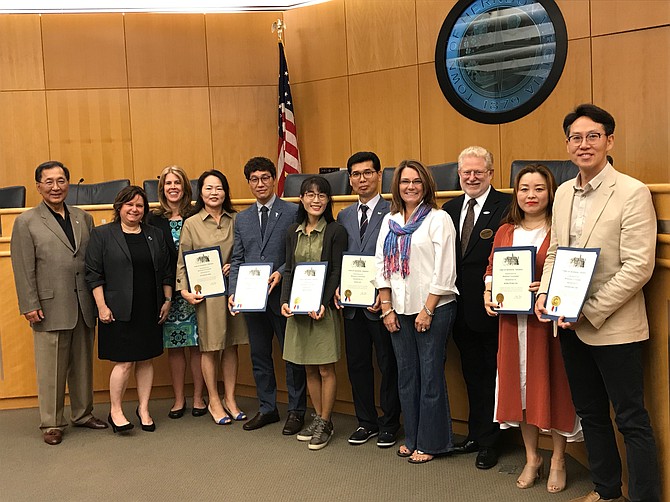 From left: Heyon Kon Lee, president and founder of Grandmaster H.K. Lee Academy of TaeKwonDo; Signe Friedrichs, Herndon Town Councilmember; Herndon Vice Mayor Jennifer K. Baker; SeonSoon Shin; Grandmaster SangGeun Lee, MARUHAN CHEONGMU TAEKWONDO, Member of the Executive Board of Directors for the Sacheon City TKD Association; MinSun Hong; Grandmaster GiJin Lee, MARUHAN UIRYEOUNG TAEKWONDO, Member of the Board of Directors for the KyungSangNam-do Province; Herndon Mayor Lisa C. Merkel; Herndon Councilmember Jeffrey L. Davidson; WonKeong Na; and Grandmaster HanSeong Choi, MARUHAN AJU TAEKWONDO, member of the Board of Directors for the GeoJei City, TKD Association; pose together in the Herndon Town Council Chambers after the mayor and town councilmembers and the visiting South Koreans exchanged gifts and certification.
Stories this photo appears in:

Key to the Town and Certificates of Honorary Citizenship presented.