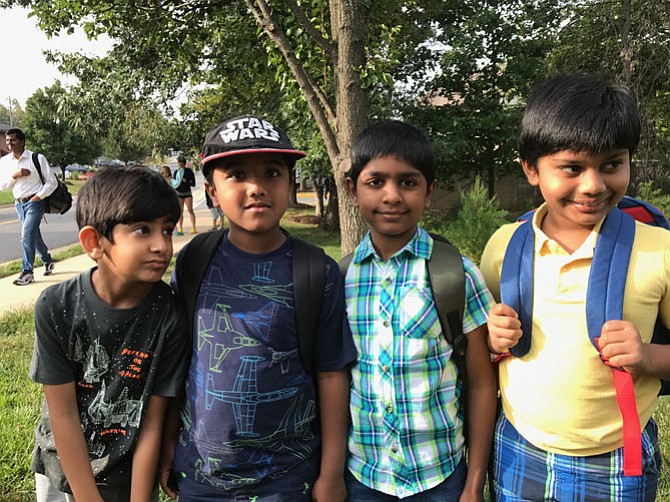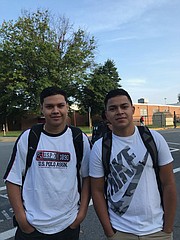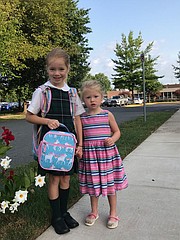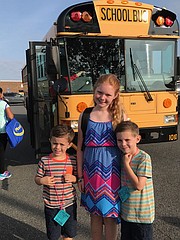 It's been decades since Fairfax County Public Schools (FCPS) started their calendar year schedule before Labor Day. For nearly 185,000 students enrolled in the school division, as well as thousands more in private education, Monday, Aug. 28 marked the first day of school for the 2017-2018 school year.
As temperatures hovered in the low 60s, parents and guardians across the region said goodbye to their children as they sent them off to school. Younger ones got a hug and a kiss, maybe a wave from mom and dad standing on the sidewalk as their buses pulled away. A few older students probably received the parent teen blessing: "Pay attention. Drive safely."
Monday, Aug. 28 also marked the real end of the so called "Kings Dominion law." Since the local school jurisdiction, FCPS met a threshold for weather-related school cancellations, they received a waiver from the state law meant to safeguard the Commonwealth's tourism industry. The Fairfax County School Board approved the calendar change in late 2016, saying at that time the changes were being made to provide more instructional time before winter break, enhanced flexibility to help students and school staff members meet college application deadlines and to end the school year earlier in June. The school year will end on Friday, June 15, 2018.
In addition to changes to the calendar year schedule, there are some bell changes – an earlier bell for middle school students and a later bell for high school students. Herndon Middle School joined Franklin Middle School with their first bell at 7:30 a.m., the same as the majority of the other middle schools in the county. Middle school students in Herndon could be seen as early at 6:15 a.m. Monday morning on the sidewalks walking and cycling toward Herndon Middle School, as well as getting on buses.
AT HERNDON HIGH SCHOOL, students began arriving shortly before the 8:10 a.m. bell. Seniors Antonio Santos and Douglas Fernando Aguilar, 18, stood in the parking lot. Asked what their ambitions were for the new school year, Santos said, "I want to get good grades. I'll do it by working hard and doing my homework."
When asked, "What about fun?" Santos said that he would like to play soccer but was not on the team. Aguilar shared he was new at HHS, having arrived last year from El Salvador. "This is my second year here," Aguilar said. "I want to get good grades too. And maybe play a little basketball."
Fairfax County Police Officer Phil Stone parked his cruiser in the center of busy Bennet Street in front of HHS to direct traffic. He stopped cars and buses to allow Ava Procopio and Marideth Butler to cross. After they were safely on school grounds, they paused to answer a question: "What were they looking forward to this year at high school?"
Procopio said she was looking forward to the football games. Butler nodded. She added: "I'm looking forward to applying to college. East Carolina is my top choice."
As the clock ticked on, the buses continued to pull up to the curb at the high school doors, drop students off, and head out for their next runs – to pick up the younger elementary-aged students and take them to school.
At one bus stop near the fringes of town, a group of "older 6-year-olds" compared backpacks and new shoes; children played; and the adults mingled. A young kindergarten-aged boy stayed close to his mom. Arav Hans is 5 1/2. He is the only child of Mradula Rathor who was at the bus stop with him.
Asked what she was feeling, Rathor said, "I'm very worried for him, but very excited for him, too." Other parents expressed similar comments. Sentiments heard repeatedly that morning. "New school year, new shoes, new backpacks. New opportunities."
In 2016, the Fairfax County Board of Supervisors and the Fairfax County School Board passed a new resolution called, "One Fairfax." It reads: "The time is now to move beyond embracing diversity as an asset and implement a new growth model driven by equity — just and fair inclusion into 'One Fairfax,' a community in which everyone can participate and prosper.
"ONE FAIRFAX" can only be realized with an intentional racial and social equity policy at its core for all publicly delivered services. A racial and social equity policy provides both the direction and means to eliminate disparities and work together to build a vibrant and opportunity-rich society for all."
To stay updated with what is happening at FCPS, visit News You Choose at public.govdelivery.com.