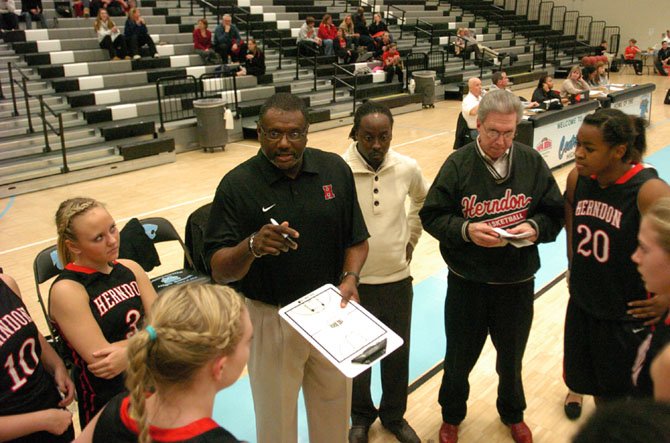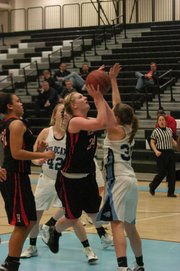 Centreville — Without the services of its starting point guard, the Herndon girls' basketball team matched the one-loss Centreville Wildcats bucket-for-bucket in the opening minutes of their Jan. 7 matchup at Centreville High School.
A jumper by senior forward Brianna Moses, a transition basket by senior guard Chloe Owens and another jumper by Moses gave Herndon a 6-5 lead. The Hornets, however, would soon learn why Centreville entered the game with a 12-1 record.
The Wildcats used full-court pressure defense to force 32 turnovers and generate numerous easy baskets en route to a 72-39 victory. The Hornets, who were without injured point guard Mayumi Shill, struggled against the Wildcats' pressure, turning the ball over 19 times in the first half. After trailing 6-5, Centreville used a 23-4 run to take control of the game.
"It was a teaching game," said first-year Herndon head coach Otto Jette, whose Hornets fell to 3-10, including 0-2 in the Concorde District.
Aggression is one thing Jette, a former Chantilly assistant, is trying to instill in his players. The Hornets started two freshmen on Monday --- guard Allison Guengerich and forward Sabrina Tolbert --- and a third freshman, forward Chase Cooksey, saw playing time. Jette would like his younger post players to become more physical like Moses, who finished with nine points and four rebounds.
"We don't attack the basket strong enough," Jette said. "We either look for a back pass or we go across court, but we don't look to go to the basket. We're not aggressive right now and that comes with our youth."
Herndon's leader on the floor is Owens, who scored her 1,000th career point early in the season. She finished with 16 points and nine rebounds against Centreville and showed her versatility when she blocked a shot in the third quarter, dribbled the length of the floor and drew a foul.
"Chloe is a leader," Jette said. "She's a player that attacks the basket. She's just that girl that's a leader on the court and the girls follow her."
Tolbert scored six points for Herndon. Senior guard Alexis Brown finished with four.
Herndon snapped a six-game losing streak with a 42-41 victory against Trinity Christian (Fayetteville, N.C.) on Dec. 29 in the Big Blue Winter Classic in Roanoke. The Hornets have also defeated West Potomac and Stuart.
Herndon will travel to face Chantilly at 6 p.m. on Thursday, Jan. 10.